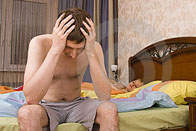 Insomnia Treatment & Sleep Clinic @ Spire Sussex Hospital, serving patients from Kent, Sussex and beyond
Insomnia is the most common sleep disorder in the UK, affecting 30-50% of the population at any one time.
10% of the population have chronic insomnia.
The good news is that there is an effective treatment - Cognitive Behavioural Therapy for Insomnia (CBT-I). The bad news is that the provision of specialist CBT-I is relatively poor within the UK. We aim to change that, for the population of Sussex and Kent and even beyond, with our evidence based insomnia treatment.
Insomnia treatment for Kent and Sussex is a private service run by Sleep expert Dr Simon Merritt, a consultant in Sleep and Respiratory Medicine, in close collaboration with an experienced cognitive behavioural psychotherapist, Steve Clifford. The service is currently based only in the Spire Sussex Hospital. Both experienced professionals have closely examined the current scientific literature on CBT-I; Dr Merritt has attended state of the art courses both in the United States and laterly in the United Kingdom. This along with their extensive clinical experience has enabled this team to produce an accessible evidence based course of treatment for Insomnia, and an innovative online questionnaire based assessment which will guide treatment. Our treatment follows the gold standard guidelines produced by the American Academy of Sleep Medicine (AASM).
"CBT has been found to be as effective as prescription medications are for short-term treatment of insomnia. Moreover, there are indications that the beneficial effects of CBT, in contrast to those produced by medications, may last well beyond the termination of active treatment"
NIH Consensus and state of the art science statements,Volume 22, Number 2, June 13-15, 2005.
In addition to seeing patient's with Insomnia, this private Sleep clinic accepts adult patients with any sleep disorder. Dr Merritt also writes sleep medico-legal reports on patients with sleep disorders, including but not limited to Sexsomnia, Obstructive Sleep Apnoea and sleep walking.
Dr Simon Merritt's sleep clinic is featured on the UK Health Centre website